What are BioMarkers?
The original plant marker was produced as an experiment in late 2009. We wanted to try out our first formulated BioComposites material, which was corn cobs and recycled high density polyethylene. This helped us to demonstrate to potential customers that our material was truly capable of being processed by injection molding and is a viable substitute for petroleum based virgin plastics.
After introducing the markers to the market, it didn't take long for them to be a real hit!
The weatherproof labels can be handwritten or laser printed and are pressure sensitive, so they are easy to remove when they do start to wear out. They remain in place and readable through all kinds of weather, but when it's time to peel them off, they don't leave a residue. You just clean off the marker and apply another label.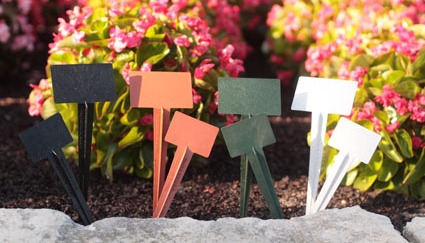 What are my options?
The markers come in eight colors and three sizes:
BM900 series 9.25″ long, 1.875″ high x 2.875″wide flat face plate.

BM1330 series 13″ long, 2.5″ high x 4.0″ wide 30-degree angled face plate.

BM2430 series 24 "long, 5″ wide x 4" high 30-degree angled face plate.

Black, White Stone, Dark Green, Terra Cotta, Blue, Yellow, Orange and Red.
Where can I buy?
You can buy online right here on this website!
Or check out these retailers:
Mammoth Nation – Website for Military
https://mammothnation.com/partners/mcg-biomarkers
Prairie Moon
https://www.prairiemoon.com/biodegradable-plant-markers
Steve's Ace Home & Garden
3350 John F. Kennedy Road Dubuque, IA
http://www.stevesace.com/
Sargeant's Nursery Inc.
3352 N. Service Road Red Wing, MN
https://www.sargentsnursery.com/
Cedar River Garden Center
2889 Palo Marsh Rd Palo, IA
http://cedarrivergardencenter.com/
A.M. Leonard
http://www.amleo.com/plant-biomarker-9-in-and-13-in/p/VP-BM/